Top 5 Dog Leashes For Your Dog
Hello Midtown Atlanta Family!
This is Pack Leader Alexa, and I'm super excited to bring you our new weekly blog series. Throughout the month, I'll address a question dog owners and lovers might have about caring for our favorite furry friends. Today, I'll answer some of the most common questions about picking the right collar or leash for your dog such as:
My Dog Pulls A LOT. Which leash keeps my dog from pulling so much? What's the best leash for big dogs? What's the best leash for small dogs? What's the best leather dog leash? And more!
The proper leash is an excellent tool for maximizing the ease and quality of every walk, whether we're strutting through the streets of Midtown or parading through Piedmont Park and kicking up the freshly fallen leaves.
My Top 5 List of Leash and Collar Recommendations personalized for your dog's behaviors and needs.
*We have included Amazon links as a quick buying resource. However, Pack Leaders ATL has no affiliation with Amazon, and receives no compensation*
PetSafe Gentle Leader Head Collar
PetSage Gentle Leader Head Collar & Leash
Best For: Dogs With a Very Strong Tendency to Pull
Best for: Dogs with a very strong tendency to pull.
The Gentle Leader slips on right over the nose and clips behind the head. Associate it with walk time and maybe a treat, and they can become enthusiastic about it in no time! If your dog is a little more agressive and pulls you forward ahead of your pace, this product is great because it relieves pressure from the throat and redirects his head toward you. It's so much easier to keep them close by this way because you can immediately bring them right to your side. Plus, this doesn't act a muzzle, so he or she can still open their mouth to pant, drink water, and fetch.


Find out more here:
PetSafe Easy Walk Harness/Leash
Best for: Dogs with moderate tendency to pull. (Rests Across the Chest to Reduce Pulling)
So here we have something similar to the Gentle Leader, but maybe your dog isn't so overpowering and you feel comfortable giving him a little more room to run free. If your dog is still a puller who has no problem provoking you into an unwelcome jog, and you need a little more control, then we recommend the Easy Walk Harness. It clips across the dog's chest, and the ring for attaching the leash sits in the front. If he starts to pull, he gets redirected toward the side and slows down. We have lots of sympathy for our sweet pets and hate to see them choke on their collars because of their strength when they lunge forward. Walking is so much more enjoyable when we can steer them with their bodies. Trust me, your dog walker or pet sitter will thank you!
Find out more here:
Primal Pet Gear Dog Leash
Best for: Large and Medium Dogs
Some of you may be wondering, what's the best leash for big dogs, dogs who pull hard, or lunge at other dogs? From Beagles to Bullmastiffs, we love this leash from Primal Pet Gear. The coolest thing about it is that it has two handle loops- one at the end at 6ft away, and one closer to your best friend at 1ft away. The handle closest to your pup is perfect if you need to keep your dog close or keep them from pulling you down the street. You can switch easily back and forth while weaving crowded city blocks to open spaces. It's also made of super durable 1-inch thick nylon, so you can be confident it will last. We also love that the handles are padded, so we know it was made with humans in mind too. Plus it comes in a variety of colors so your pooch can express himself!
Find out more here:
DOGNESS Classic Double Handle Leash
Some of our best friends might look tiny, but they have all the personality of full-sized pooch. For them, we recommend the DOGNESS double handle. It has the same general design as the Primal, but it's lined with reflective material because our smaller furry friends can be harder to see on night walks. The carabiner on this leash also has a swivel feature to prevent tangling. We love this because small dogs have no problem running circles around us getting the leash caught under their legs. DOGNESS to the rescue!
Find out more here:
Hertzko Heavy Duty Retractable Dog Leash
Best for: Owners who want a wide range of leash length
This leash is great for dogs of all sizes (if you prefer to use retractable leashes, Read Why Retractable Leashes Are Dangerous). Nevertheless, the ribbon extends up to 16ft, so this kind of leash is ideal if you love running with your dog and want to give him a little more room to explore ahead of you. Your active pup will definitely appreciate being able venture off a few more feet ahead, especially if its a beautiful day and you're lazily strolling behind taking in the scenery. It's also great if you want to keep them right at your side- you can bring them within just a few inches of your hand. It also has a good, comfortable grip and lock button in case you find the perfect length for that day. We just wish it came in more colors.
Find out more here: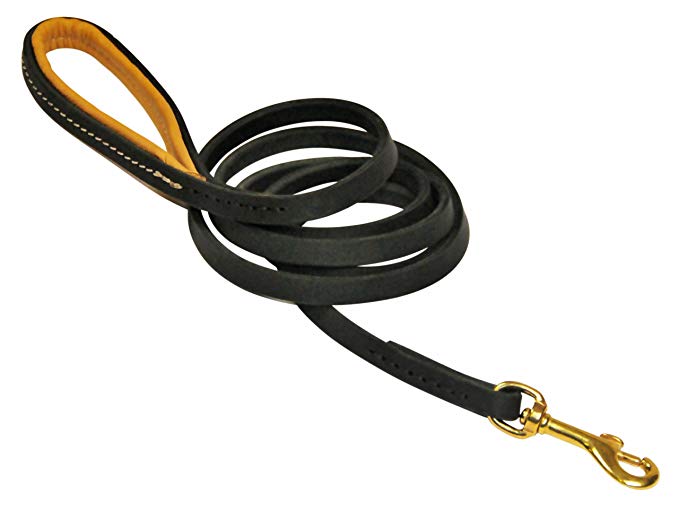 Honorable Mention: D and T Soft Touch Leather Leash
I included this one because sometimes you just love the look and feel of a beautiful leather leash. This one has a lovely vintage design, made with high quality real leather and brass hardware. The handle is padded, which is always a plus. This would be ideal for medium to large dogs as it has a nice weight and thickness. Durable and classy!
Find out more here: